Chloe S., Age 11
Tribe of Issachar
Craft is the best because we get to make something to take home at the end of the two weeks. This year we made drums with deer skins, but the skin smelled bad.
You get to design something you want on you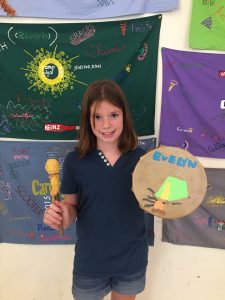 r drum. I chose a tent and a campfire. Sneezy helps us make the drums and she was a big help. We used a wooden ring to outline the drum with the skin. Then we used clothes pins to hold the skins together. We used a tool called an awl to make the holes in the skin. After all that we painted on our drum design.
I wonder what we are doing next year. I hope you will love craft like I do.