Aylo L., Age 10
Tribe of Naphtali
Hello! My name is Aylo. Today I am going to interview a new camper named Emanuela. I want to interview her because she is very inspiring in many ways. She is eight years old and the youngest camper in my tribe!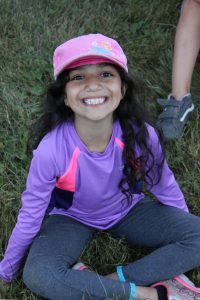 The first question I asked her was: What is your favorite activity at Camp Gilgal? She says: Everything! Then, I asked her what camp name she wanted. She said she didn't know. Well, she does have a long time to think about it! Next, I asked what she would say to future campers. Emanuela said that being in a tribe is a really fun experience!
The last question I asked her was what parts of camp make her feel closer to God? Excitedly, she said, "TABERNACLE!" My favorite memory with her is when we were watching the camp
movie together! We got to sit next to each other and watch the movie with snacks! I love spending time with Emanuela because she is a bundle of joy! See you next time! Aylo OUT!