Halie F., Age 11
Tribe of Issachar
Hi, my name is Halie Frazier from the tribe of Issachar, age 11. I am writing about FOB. FOB stands for Flat on Bunk. FOB is for 45 minutes after pool.
Sometimes when I'm tired I sleep during FOB. But when I'm not tired I could either write letters or read.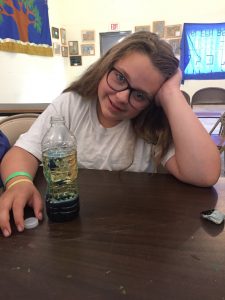 My two tribe leaders, named Skidoo and Watson, made a FOB song to the tune of a campfire song. Here are a few lines:
I'm gonna sleep sleep sleep
I'm gonna dream dream dream
I'm gonna sleep I'm gonna dream
During FOB
During FOB you should be quiet so you don't wake the tribe leaders or else… just kidding but they like sleeping so… SHHH. My favorite part about FOB is playing with my slime. That's all about FOB. Bye!