Cole K., Age 8
Tribe of Benjamin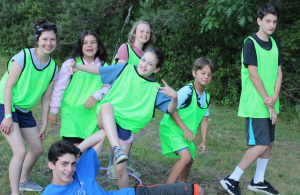 Hi my name is Cole! The all-camp activity I will be telling you about today is Ninja Heist. I really like Ninja Heist. It is so fun because I like getting tagged!
So, in the game there are two teams. One are ninjas and two are guards. We switch off teams. If you are the ninjas, you run to get the treasure. If you are the guards, you try to tag the ninjas and bring them to jail. The rules are: you have to be away from the jail and no hiding the flag under the grass. One time, someone caught me.
Ninja heist is so fun you should come to Camp Gilgal to play it. Ninja Heist is great if you like to tag and if you like to get tagged. Just like in Capture the Degel, the person who tags you has to escort you to jail. In Ninja Heist you get to take turns being ninjas and guards, so you get both kinds of action. Ninja Heist is a game I learned at Camp Gilgal. This is my first summer and I can't wait to play and come back next year!