Liora S., Age 15
Tribe of Ephraim
A loud thud echoes through the cabin, windows rattling. A startled flock of birds takes flight, jabbering in surprise and fright. Upon first thought, it may seem that the dinosaurs from Jurassic Park have come to life and started roaming Camp Gil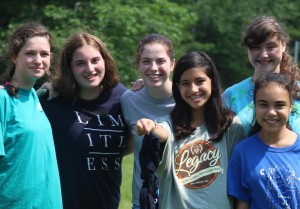 gal, but… The wooden door swings open and a girl steps out. Dark hair frames her face, cascading down to just below her shoulders. Her brown eyes sparkle mischievously. This is no dinosaur, this is Gita.
Known for her wonky and rather… unsavory food combinations, her loud and exciting presence, and energetic personality, Gita is one fine specimen of a first-year camper. Always jumping headfirst into awkward situations and de-awkwardizing them is her specialty. Gita fears no one. She is forever in sync with her identical twin Reva, and they dually astonished, amazed, and excited the audience during talent night. Gita is up for anything, and once you get to know her she is a chatterbox that is always willing to discuss life with anyone and everyone.
Thundering down from her bunk every morning after spending the night watching her cabin-mates sleep, Gita greets everyone in the morning with a loud thump as she leaps from her bunk bed. Sharing a cabin with Gita is an ongoing endeavor that requires much patience and a sense of humor. Gita makes camp exciting, and is a rechargeable battery of wackiness and energy. Gita helps make camp fun. I'm glad she's part of the Camp Gilgal Family.