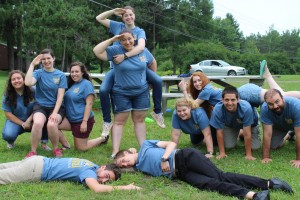 Rachel M., Age 13
Tribe of Judah
At Camp Gilgal we do something called staff testimonies. After every lunch a couple of staff members come up to share their life stories. I honestly love hearing how God changed people's lives and brought them closer to Him. As a camper, I think that it brings us all together as a family. Some of us go through similar struggles as the staff and it personally helps me get through it. For me, at least, camp is my second home. You get welcomed warmly.
There is a tribe leader and her name is Ruski. Ruski's testimony was very relatable. Growing up through high school Ruski had many great friends that helped her stay accountable to her faith. They were there to support her and encourage her. This personally gives me an example of what group of friends I should associate myself with.
Overall I love camp and they treat every single one of us like family. I wouldn't miss it for the world!