LaTanya H., Age 12
Tribe of Manasseh
Mission Impossible is a fan-favorite at Camp Gilgal. Kids love the darkness and the intenseness. One of the oldest campers, Mia, says, "MI is a lot of fun with stealth." MI is a mission that can be impossible. Tribes have to go from clue to clue. Doesn't that sound easy? Well, it's not. Out-of-cabin staff have flashlights and try to catch you. When you get caught you have to go back to your cabin, no matter where you are.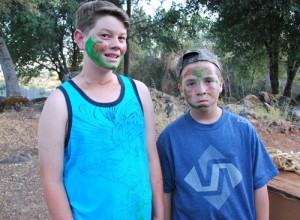 Every year MI is a big, fun surprise. This year the lights went out when we were in our cabins. One camper, Jeremiah, says, "When the lights went out, my cabin went crazy!" I agree, cabins went ballistic. Playing the game is absolutely so much fun. You have to roll, slide, and drop down hills or surfaces.
This year the youngest girls cabin, Benjamin, won. Even though other tribes didn't win, they still go to have fun!