Elliot A., Age 16
Tribe of Benjamin
Every year at Camp Gilgal, campers partake in the ritual commonly k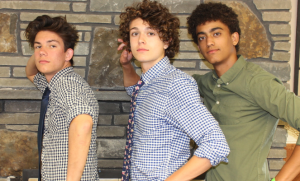 nown as "Gilgal Gazette;" these informal digital newspapers include positive camp stories and feedback to encourage new campers to attend Camp Gilgal. They are also a useful tool in the art of reminiscence.
I feel Gazette is a fun thing and really builds our camp experience. I can look online on camp's blog and read articles I wrote six or seven years ago.
For instance, today RedSox read us an article I wrote in 2013, which was about boating. It really is amazing how all aspects of our camp experience are chronicled by charismatic characters of kids, all from different viewpoints. My mom loved being able to read about my camp experiences online and thinks it's a spectacular way to recruit new campers, and I must say I agree.
So, my guy, come to Camp Gilgal. It is very fun, a special way to get closer to God in a unique setting with other Jewish believers. The Gilgal Gazette is one of my favorite activities at camp because it involves writing and I love writing. I hope you will enjoy it too!