Mason C., Age 7
Tribe of Benjamin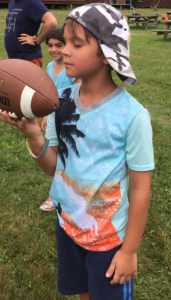 This was my first year as a summer camper at Camp Gilgal. One of my favorite activities this year was soccer.
While I was playing soccer, I enjoyed getting hit in the face two different times. Both times I was running after the ball. I didn't get hurt… it was just funny!
One of my favorite things was being goalie. I really enjoy being goalie because I can stop the ball from going into the goal. I feel happy and accomplished when I stop the ball.
My favorite part about soccer was playing defense and blocking the ball. It was my second time playing soccer and I had lots of fun. It was a great activity!