By Ryan H. age 9
Tribe of Naphtali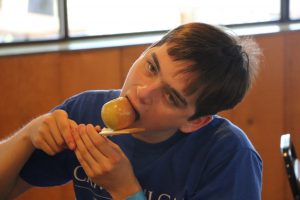 Yamaha got a rubber spatula. Ewok got the worst thing a ladle, Lev also got a ladle. Isaac got salad tongs. And a ton of ladies got the impossible thing to use- a rubber spatula! Just like Yamaha. Lyrit got salad tongs, just like Isaac. Pippin got salad tongs. Raina got a ladle. Zoë got a spatula. Macaroni got salad tongs. Gadget got a spatula. Ka-Boom (Sh-Boom) got a ladle. Mongongo (Mango) got salad tongs.
Streetlight got a spatula. Myra got salad tongs. Sarah got a ladle, Sarah says that's the worst thing she's gotten in five years. Esquire got salad tongs. He likes to get salad tongs because it's the best thing you can get. Pippin got salad tongs, she liked it because she didn't want the rubber spatula. Utensil Night is something people don't get to do at home.
If you try doing it at home it probably wouldn't be as fun because at camp there are a lot more people.  You can see what other people got. It gets messy at Utensil Night because you have spaghetti. And if you get a ladle or a rubber spatula it gets SUPER messy. There are also people that sweep on Utensil Night and that's messy too.
Everybody likes Utensil Night because you get to use a different utensil than usual. My favorite theme night is Utensil Night. The hardest part about eating with a spatula is when you try to get something on it, it just slides off. The easiest utensil to eat with is salad tongs. And the hardest utensil to eat with is a ladle. Every year I get better and better at eating with strange utensils, and next year I think I will be better.