Leia B,. Age 13
This year at teen camp Waffles was my tribe leader for the first time and I got so much closer to her. Waffles first went to camp when she was ten years old and that year her tribe leaders were Sheriff and Mighty Mouse. Waffles' favorite camp memory was when she was tribe leader for Asher and they were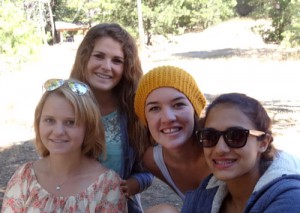 horseback riding and worshipping at the same time.
Romans 8:35-39 and Psalm 62: 1-2 are Waffles' favorite verses. If she could go anywhere on vacation it would be Greece. Fudge is her favorite food. Waffles' favorite color is mint green. Also, she likes bunnies and she loves cooking, baking and taking photos.
As a camper, Waffles met all her best friends at camp and she learned that God is faithful through all circumstances. Waffles is loved by all and will always have a special place in every camper's heart.