Isaac H.
Age 13
 At Camp Gilgal, there is a staple game that must be played to complete the camp experience. We always have to play Wells Fargo. The basis of the game is stealing bags of gold from the tribe leaders, who are the faithful and loyal Wells Fargo agents. Each bag is hidden by an agent and defended by them. We campers have to run up and steal the bags without getting tagged. If you get tagged, you must return to the hideout for the campers, who are nicknamed "outlaws," for 100 seconds. When the whistle blows, you run out and search for the bags. The second time the whistle blows, you return to the outlaw hideout to count the stolen gold bags. If the outlaws have more bags, they win. The amount of rounds we play depends on how late we start the game.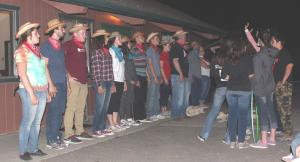 This year at teen camp, we played two rounds of Wells Fargo in the woods. The staff took advantage of the dark woods and prepared some jump-scares. I sadly fell for them a couple of times, but overall, it was still an enjoyable game.
Wells Fargo is a great time for running and awesomeness. I can't wait for next year to steal those bags of gold!